QDI's KinetiZ 7T
A KT133 Based Motherboard With A Funny Name
August 29th, 2000 By Sean 'BiZ' Mueller
AMD's Socket A processors are well established in the market place. One could even argue that AMD's T-bird and Duron provide a superior product, at a better price, when compared to certain other manufacture's products. Because of this, we're beginning to see more and more motherboard manufactures debut products supporting AMD's latest line of CPU's. From the Abit's and Soyo's of the industry and now from QDI.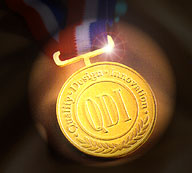 QDI KinetiZ 7T
Feature rich but...

As do all motherboards supporting Socket A CPU's, the QDI KinetiZ 7T uses VIA's capable KT133 chipset. Thus, it comes with all the features one would expect to find in a KT133 motherboard, including, but not limited too, ATA66 support, hardware monitoring, onboard sound, AGP 4X, as well as the ability to run the memory bus at 100 MHz, or at the Front Side Bus Speed ±33MHz. Here's a rundown of all the other features.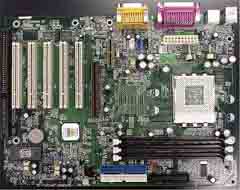 Chipset

NorthBridge: VIA KT-133
Southbridge: VIA VT82C686A

Bus Type

5 PCI slots
1 AMR
1 AGP
1 ISA (shared)

CPU

Support Socket A AMD Athlon and Duron Processors
AMD Athlon Processors at 750 / 800 / 850 / 900 / 950MHz ,1GHz, 1.1GHz and future
AMD Duron Processors at 600 / 650 / 700MHz and future

System Memory

Three 168 pin 3.3V PC133 DIMM sockets
Supports up to 1.5G SDRAM
Supports 66/100/133 MHz Synchronous DRAM and VCM SDRAM
And 66MHz EDO DRAM

Power Management

ACPI V1.0 and APM compliant
Supports S0, S1, S3, S4, S5 ACPI power status
Auto adjust FAN speed in the different power status

USB

4 USB ports (2 for I/O panel and 2 for front panel)
USB 1.1 specification compliant

Bus Speed

200MHz FSB
Overclocking up to 166MHz. FSB maximally

BIOS

2 Mbit Flash ROM
Licensed advanced AWARD BIOS
Supports Plug and Play
Supports ACPI and OS directed power management

Graphics

AGP 4X Support
Universal AGP Slot
Transfer rate up to 1 GB/s

Onboard Audio

Software Sound (Option 1)
- AC'97 2.1 Compliant
- 16-bit Stereo Codec
Hardware Sound (Option 2)
- Creative 5880 PCI Sound Chip

Advanced Feature

Wake up on LAN
Wake up on Modem
Trend ChipAwayVirus on Guard
PC-Cillin with killing function
Override processor ratio by jumpers (Overclocking function)

QDI Innovative Technology

RecoveryEasy, BIOS-ProtectEasy, ManageEasy, LogoEasy

System Health Monitoring

CPU temperature, System temperature, CPU fan speed, Chassis fan speed, 5 System Voltages

Storage system

Two PCI Master IDE ports support up to 4 IDE devices
Supports ATA66 / ATA33
One floppy port support up to two 3.5" or 5.25" floppy drives(360K/720K/1.2M/1.44M/2.88M)
Supports LS-120 floppy disk drive and ZIP drive

I/O Feature

2 High Speed Serial Ports (16550 Fast UART Compatible)
1 Enhanced Parallel Port Support EPP / ECP / SPP
1 PS/2 keyboard port
1 PS/2 mouse port
IrDA port support up to 115.2Kb/s transfer rate
All I/O ports can be enabled/disabled by BIOS setup

Board Size
As you can see, all the good stuff is in there. Let's have a closer look at that "good stuff".